Close
50 Surprising Things About Season 4 - Pt 1
Follow along with Season 4 by diving into the 50 fun facts below.
1. The Season 4 premiere, "Two Swords," was crafted with specific bookends: "It was intentional that we would begin the episode with the loss of one Stark sword, and what Tywin thinks is the death of the Stark line and legacy, and end it with finding another Stark sword that implied the rebirth of the Stark ability to act in the world through Arya," explained D.B. Weiss.
2. Writer Bryan Cogman loves the dynamic between Lady Olenna and her granddaughter Margaery. Cogman thought back: "When Diana [Rigg] joined the cast, I remember looking at an old publicity shot for The Avengers – not the Robert Downey Jr. movie but the 1960s spy show – I thought, she's the Natalie Dormer of her era. In our version of the story, Olenna was Margaery in her day and Margaery will be one day be Olenna."
3. Actor Nikolaj Coster-Waldau, who plays Jaime Lannister, gave his new prop a rave review: "I'm very pleased with my golden hand," Coster-Waldau said. "It's easier than having the stump and various prosthetics. It was a challenge to find ways to hide my arm. Now this beautiful work of art hides my own hand, which gets really sweaty and disgusting."
4. Jaime's new hand took a month to make. Because it was Cersei who commissioned it, costume designer Michele Clapton used the queen's "armor" as a reference point for the hand's pattern. "I wanted it to have a softness [and] beauty to it," said Clapton.
5. Maisie Williams recalled a script note from "The Children" about Arya meeting Brienne. "It says: 'Arya smiles. She likes this weirdo. Brienne smiles. She likes this weirdo.' I remember reading it and thinking, 'That is it. It's perfect.' "
6. The series creators liked Dean Charles-Chapman, who played Martyn Lannister (the boy who thinks Robb turns into a wolf in Season 3), so much that they brought him back in Season 4 to play Tommen Baratheon.*
7. After the Season 4 finale, the Queen of England visited the set of the show. She did not, however, sit on the Iron Throne.
8. D.B. Weiss was impressed with Kit Harington's swordplay. "There's one scene I remember watching, and we said: 'Rewind ‒ somebody put a speed ramp on Kit's sword movement, it looks fake, it looks too fast.' " In fact, it was Harington's true speed, even with the big, heavy sword. Weiss noted, "It's very rare to find somebody who has the acting chops that Kit has and the ability to say so much in such a subtle way. He's an action hero."

9. Hannah Murray, who plays Gilly, had a chat with John Bradley (Sam) about their characters' first kiss. Murray remembered: "John was like, 'You're not giving me very much back.' And I told him it's wasn't a personal thing, it was a character choice. I felt that Gilly has never been kissed before, and she probably doesn't even really know what kissing is."

10. Bradley believed the kiss between Sam and Gilly was more than just a peck: "Kissing Gilly is the first time he's getting over that fear of rejection," Bradley said. "I think that kiss was symbolic of how they learned through each other to trust other people and humanity, and realize their own worth. They wouldn't have done it in Season 3."
11. Ser Pounce caused some problems on set. "This is probably the last time you'll see Ser Pounce because filming with a cat is a nightmare," writer Bryan Cogman has said. "Natalie Dormer wanted to kill me. But the cat is in it because he serves a purpose: You immediately see that Tommen is not Joffrey. Tommen is a sweet boy with a cat named Ser Pounce, and who has found himself in incredible circumstances."
12. Pedro Pascal's first day on set was for a big moment: the cell scene with Tyrion, where Oberyn volunteers to be Tyrion's champion. "I was petrified," Pascal told the crowd at San Diego Comic-Con. "It was my first day on set, my first day in full costume, I don't know how the hell I got through it, to be honest with you. It was pretty nerve-wracking, but Peter [Dinklage] made it easy."
13. A lot of planning went into achieving the royal wedding's opulent and glamorous look. Home economist Karyn Booth drew inspiration from the books when planning the table spreads: "We decided to go for color when planning the buffet tables." The team had to wire some of the food items together so the piles "wouldn't topple over." Once the meal was created, standby art director Philippa Broadhurst made sure those items could be seen within the frame of the shot.
14. New birds were placed inside Joffrey and Margaery's wedding pie after each take was completed because the doves were trained to fly home once released.*

15. Director Alex Graves wanted the audience to feel uneasy as Joffrey and Tyrion begin to quarrel at the Purple Wedding. "The key thing for me in directing that part of the sequence is that you know Peter [Dinklage] is going to be incredible at dealing with the situation he's in, you know that Jack [Gleeson] is going to be beautifully evil," Graves recalled. His goal was the vibe: "Something really bad is going to happen ‒ I don't understand what it is, but I know it's coming."

16. Not just a crucial story point, the royal wedding also served as a special moment for the cast. "It's a chance for us to gather so many of our characters in one place at one time," explained Benioff. "With a show as huge as this one, with so many different plot lines and different characters, it's kind of a rare opportunity… What would Brienne and Cersei talk about if they ran into each other? And if Loras happened to bump into Jaime, literally, what would that conversation be like? And Oberyn and Cersei meeting, or Ellaria Sand and Cersei meeting, how would that go?"
17. All of the leaves and roses on Margaery's wedding dress are hand-embroidered. The roses and leaves on the train are made with silk linen, leather for the leaves, metal pieces for buds, and even fish scales for iridescence.
18. Costume designer Michele Clapton created Sansa and Margaery's necklaces to look they were from the same period. The "most exciting thing of the season" according to Clapton, was that the beads on Sansa's necklace were created with 3-D printing. See the images below.
19. Joffrey's death was actually reshot after a discussion on how gruesome to make it. The goal was to achieve realism without being overly gratuitous, yet still give the audience the satisfaction of seeing the death of such a hated character.*
20. Author George R.R. Martin has said that Joffrey's death was loosely based on the historical figure Prince Eustace, a contender for the English throne. It is believed Eustace died choking, possibly caused by poisoning.*
21. A real storm raged during filming of the wedding, so any sunlight coming in on the actors was created by the director of photography.*
22. The wedding crowns were created with care. Costume designer Michele Clapton explained her inspiration: "Joffrey's crown has antlers, but roses are creeping within it. The idea is that slowly, they're beginning to wrap around and control him. We wanted to represent what the Tyrells were hoping would happen."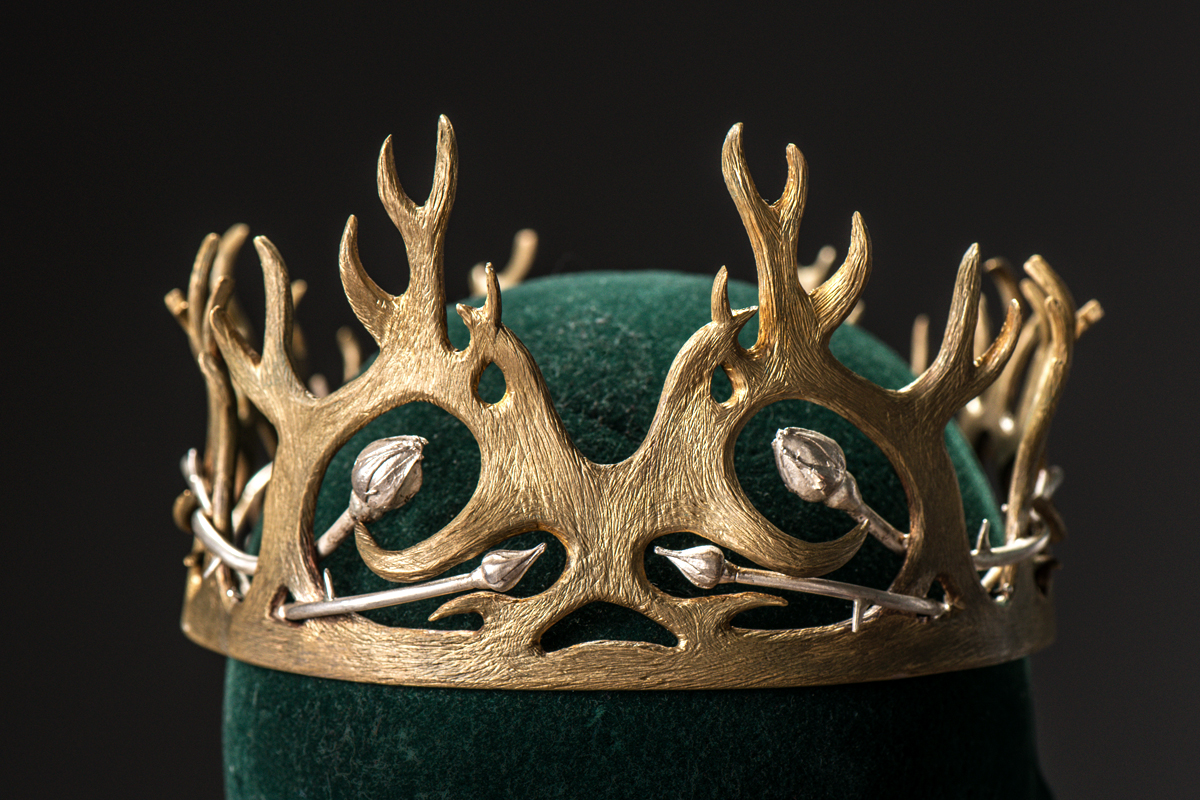 23. Arya's trip to Braavos was not that epic IRL. "That scene was shot at a car park in front of a green screen," Maisie Williams recalled. "It's not quite like being on a legit ship in the middle of the ocean, so to really get into that, you summarize the whole season in your head.
24. David Benioff has compared the production process to a cinematic endeavor: "We shoot it as if it's a 10-hour movie…. We shoot in three different countries this year, in Ireland, Spain, and Croatia. Five different directors shooting two episodes each, and the actors have to travel all over the place."
25. David Peterson, the linguist who created High Valyrian for the show, planted an Easter egg in "Breaker of Chains." Peterson revealed his secret to HBO.com: "There's a scene where the Meereenese rider is challenging Daenerys' champion. He's shouting and Nathalie Emmanuel [Missandei] is translating – but she's not translating what he's saying. He's actually saying a Low Valyrian translation of the French guy's insults in Monty Python and the Holy Grail. That was Dan Weiss's idea and it was so hilarious that I had to do it."